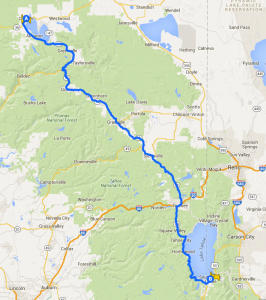 Vandaag vertrekken we vroeg naar South Lake Tahoe, the place to be op 4th of July hier in de regio. We moesten vroeg op pad want de straat waar we verbleven, werd afgesloten voor de plaatselijke parade.
Dit jaar hebben we eindelijk tijd voorzien in de planning om mee te kunnen vieren. South Lake Tahoe organiseert elk jaar het grootste vuurwerk ten westen van missipi, het is dan normaal dat dit heel veel volk trekt, er word tussen 75000 en 100 000 personen verwacht, vlug zijn is dus de boodschap. Hier zijn alle hotel al lang volgeboekt of zijn de prijzen verviervoudigd. We hadden ook eerst enkele stops geplanned aan het meer maar het ziet hier zwart van het volk en parking is schaars. We zullen morgenvroeg moeten terugkeren.
Overal zien we de Amerikaanse vlaggen, aan de huizen, aan de fietsen, mensen verkleed als vlag, we zien het allemaal.
We spenderen onze namiddag en avond tussen het volk op Nevada Beach. Hier komen vele families s'morgens vroeg hun plaats al reserveren en ze brengen hun hele huishouden mee. Tenten, stoelen, barbecues,frigobox, kinderpark, ….
De zonsondergang over lake tahoe is geweldig mooi. Als de zon onder is, daalt de temperatuur ook sterk. Het is dan niet meer zo lang wachten vooraleer de eerste illegale vuurwerk word afgeschoten. Want je mag geen alcohol en vuurwerk mee nemen op het strand. Ze nemen het echt serieus op, alle frigoboxen worden gecontroleerd. Maar ondanks al deze maatregelen zijn er enkelingen die stomdronken zijn.
Na een 25 tal minuten is het spektakel gedaan. Dan moet al dat volk ook ineens vertrekken. En dat is altijd een hel, Traffic! We waren waarschijnlijk sneller te voet geweest. Maar we hebben dan even gewacht op de parking van de safeway tot het verkeer weer in beweging kwam. Honderden mensen liepen ook eerst nog de winkel binnen, het was duidelijk dat de meesten nog een deftig feestje gingen bouwen.